Hand Fighting - Shrug & Twist (from Collar Tie)
Start in Turtle Position with opponent in front of you
Reach with one hand to the outside of their ankle
Now shift forward so your head is on the outside
Bring your other arm around the inside of their ankle
Your outside hand should be inside the crook of your inside arms elbow.
Now drive with your legs and push them over
Ensure your partner practices their Backward Break Fall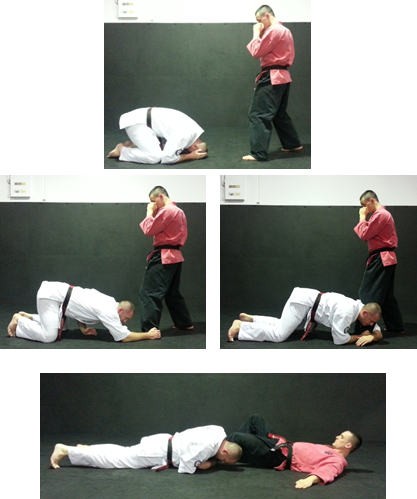 Your opponent grabs your neck or head in a Single Hand Collar Tie
Shrug the Shoulder on the same side as their hand
Twist away from their hand looking behind you
Continue twisting until the hand has released from you
If their arm is straight you may be able to apply an Elbow Bar (so be careful in class)
If their arm is bent you may be able to apply pressure to their shoulder joint (so be careful in class)
Once you have released the hold take a step back and raise your hands, to stop them grabbing you again.
The Shrug and Twist is an excellent way to either escape a single Hand Collar Tie or to improve your grappling position while clinching. It can also be used to create space from your opponent and move out of clinching range and back to somewhere more comfortable.

Stomp
Ankle Kick
Grind Heel
Toe Break
Aiming for specific targets whether striking, pressing, grabing, locking or wrenching is essential for the best results. However do not become target obessed or you may miss many other vulnerable spots on your opponent or oppurtiunities to counter, throw or move to a better option.